ALAB Pilipinas Adrian Forbes 2020 Jersey (ABL)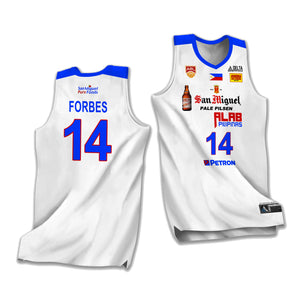 ALAB PILIPINAS OFFICIAL MERCHANDISE 
You can now own this great looking jersey sold exclusively by Delta Sportswear. This is surely a great addition to your collection! 
Each product of DELTA Sportswear is crafted by a team of specialists with long years of experience in specialized and dedicated work and translates to wonderful creation and attention to detail put in each and every product we deliver. 
Orders are usually shipped 7-10 working days after confirmation of payment.
SPECIFICATIONS:
Jersey 
Available sizes from XS to 3XL
Comes in Red, White and Blue
Full sublimation quality jersey
Imported Dri-fit spandex fabric
Machine wash, tumble dry