Volleyball Uniform Set (Code: PRE-2002)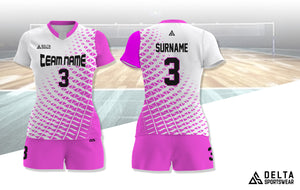 Sure to be one of your favorites, this DELTA Sportswear uniform set will be a sure winner on and off the court! Definitely worth every penny as it blends quality, design and functionality.
Each product of DELTA Sportswear is crafted by a team of specialists with long years of experience in specialized and dedicated work and translates to wonderful creation and attention to detail put in each and every product we deliver. 
SPECIFICATIONS:
Volleyball Uniform set consist of standard volleyball top with sleeve and volleyball shorts

Available sizes from XS to 3XL

Full sublimation quality uniform

Imported Dri-fit spandex fabric

Machine wash, tumble dry
------------------------------------------------
DELTA Sportswear offers pre-designed quality sportswear such as this item as well as a fully-customized team uniforms designed specially based on your preferences and design specifications. For custom orders, get in touch with us through our social media pages or via email: info@deltasportswear.com.ph
-----------------------------------------------